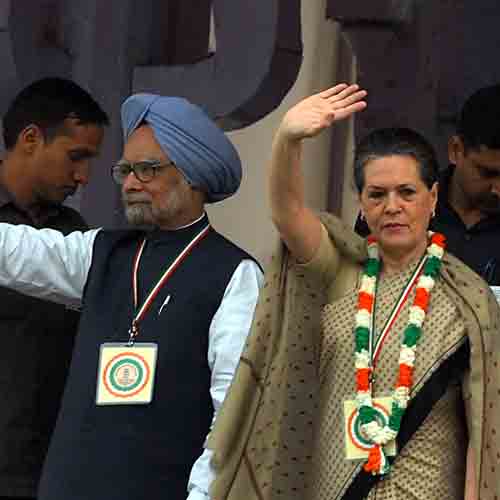 Manmohan Singh and Sonia Gandhi
The legal right to food security is "unparalleled" in the world and will ensure that no poor in India remains hungry, UPA chairperson Sonia Gandhi said here Tuesday while launching the ambitious food security programme in Delhi.
Delhi is among the first states to launch the programme that is expected to provide cheap staple food to two-thirds of the nation's population.
The launch of the programme - seen as both a major welfare as well as populist move designed to swing votes for a beleaguered Congress in upcoming elections - coincided with the birth anniversary of late prime minister Rajiv Gandhi.
Sonia Gandhi said the right to food security programme had been conceived so that no poor remains hungry.
"We decided to formulate food security bill so that the poor do not remain hungry, their children do not sleep hungry and they do not suffer malnutrition," Sonia Gandhi said at Talkatora Stadium here.
"The guarantee of food provided by the food security scheme on such a large scale is unparalleled in the world," she declared, adding that states had benefitted from welfare schemes of United Progressive Alliance (UPA) government.
"We know work is not over and there is need of a lot of struggle. It is our duty to keep in mind interests of the poor," she said.
She said the public distribution system had many shortcomings and the food security bill had given importance to reforms in it PDS so that the "real beneficiaries get benefits and there is no scope of corruption".
The food security bill is yet to be passed by parliament. The Delhi government unveiled the food security programme on the basis of an ordinance promulgated in June.
Sonia Gandhi said that the food security bill will provide benefits to 75 percent of the rural population and 50 percent of the urban population.
She said the food security programme will empower women.
The Congress chief handed over food security ration cards to beneficiaries along with a 5 kg rice packet each.
Under the programme, a total of 7.3 million people will get foodgrain at highly subsidised rates in the national capital.
The programme will come into effect from Sep 1 and benefit to 3.2 million people in the first phase. The beneficiaries will be get a fixed amount of foodgrain at Rs.3 a kg for rice and Rs.2 a kg for wheat.
Sonia Gandhi praised Delhi Chief Minister Sheila Dikshit for her efforts for implementing the programme.
She also lauded Dikshit for transforming the infrastructure in the capital, saying the city was no longer the same as it used to be 15 years ago.
Food Minister K.V. Thomas accused the Bharatiya Janata Party (BJP) of delaying the passage of food security bill in parliament.
Referring to a letter written by BJP leader and Gujarat Chief Minister Narendra Modi to Prime Minister Manmohan Singh to call a meeting of chief ministers, he said consultations were being held on the bill since 2009.
"The purpose is to delay," he said.Taking a dig at Modi, he said that the person who has laid bare his prime ministerial ambitions wants to delay the right to food security for millions of poor people in the country.
http://news.google.com/news/url?sa=t&fd=R&usg=AFQjCNFZEEP05aq3ocVRObJfC0_dCTjN-A&url=http://www.dnaindia.com/india/1877330/report-no-poor-in-india-will-remain-hungry-sonia-gandhi
jika diwebsite ini anda menemukan artikel dengan informasi dan konten yang salah, tidak akurat, bersifat menyesatkan, bersifat memfitnah, bersifat asusila, mengandung pornografi, bersifat diskriminasi atau rasis mohon untuk berkenan menghubungi kami di
sini
agar segera kami hapus.